The Whippoorwill Bed & Breakfast

For Sale or Lease. Call for Information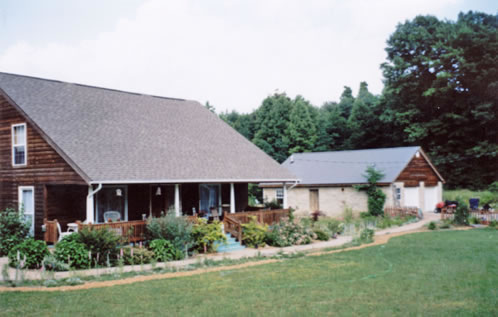 The Whippoorwill Bed & Breakfast
4059 Amos Ridge Road
Frenchburg, KY 40322
Phone:
(606) 484-1819
(answering machine)


B&B proprietors:
Janet & Rod Young


Rates:
Rate is $95.00, double occupancy, per night
Week-end rates varies

Rooms:
Eclectic décor, 4 bedrooms with private baths
Additional occupant extra charge
Open:
All year
- Christian Environment
- Designated outside smoking area


Reservations:
Deposit required
Cancellations:
2 weeks notice or deposit forfeited
Payment Methods:
Cash, check or money orders accepted, credit card service in process.


Meals:
Snacks & limited beverages provided
No Alcohol permitted


Amenities:
Warm Kentucky Hospitality
Comfortable full size beds
Vintage linens
Ceiling fans
Central heat & air
Video/reading library
Access to first floor living areas
Country setting
Homemade cookies
Hairdryer / irons (upon request)
Board games
Onsite:
Resident pets (2)
Large deck/ porch
Flower / herb garden
Antiques
Access to telephone
Hiking trails
Woodland campsite
Serenity Park area


Other Services:
Rates negotiated
Group rate discounts for small church retreats/group meetings
Cater to Business meetings, wedding parties, family reunions and Sunday dinners
The Whippoorwill B&B is situated on 40 acres in the heart of Menifee County "Known as the best kept secret in Kentucky", within the scenic historical Red River Gorge geological area and also abuts the U.S. Daniel Boone National Forest Preserve. Our B&B was named after the "Nightjar" bird species which appear every spring with its melodious mating song. The surrounding acres are abundant with wildlife: turkeys, deer, rabbit, squirrels, foxes; numerous rare birds: bluebirds, cardinals, canaries, pileated woodpecker, redheaded sapsucker woodpecker, hummingbirds; many rare plants and flowers indigenous to this region; which can be viewed from the back deck and front porch on rocking chairs and an old fashioned porch swing. The under ground "waters" of Little Amos and Big Amos creeks also emerge from the hillside property which flows into Indian Creek that eventually merges into the historic Red River.
Enjoy hiking, nature walks among the flowers and herb garden and the serene tranquility of the surrounding woodland environment, and the "Good ol Kentucky hospitality and fare".
This property was previously owned by my grandparents purchased from the Smallwood family and was repurchased by us in 1994 to build a B&B establishment which would provide the same hospitality for which my grandparents, "Harve" and "Nettie" Elkins were known locally.
Enjoy a restful relaxing stay in our comfortable farm house setting, and listen to the morning and evening songs of God's creatures from the front porch rocking chairs or the back deck overlooking the back meadow and forest. Leave your troubles and worries behind. For a short period of time remember how it was in the past century when the Indians roamed this area and pioneers such as my grandparents made this their home.